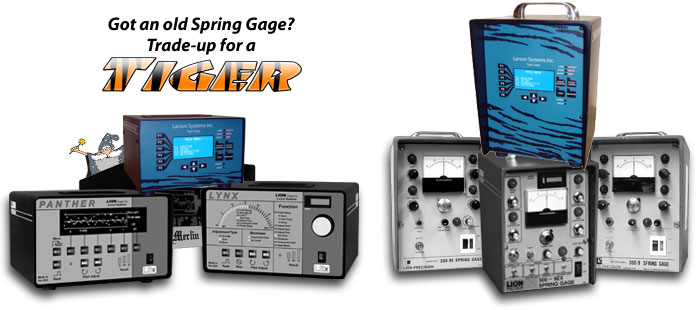 Trade up for a Tiger
Larson Systems is offering a trade-up program for customers who wish to upgrade to the Tiger Gage from an old spring gage, working or not. Qualifying products include:
LION Panther Gage
LION Lynx Gage
LION 300-9EX*
LION 300-9E*
LION 300-9*
Any competitor's spring gage—contact us to see if yours qualifies
*Your original 300 series gage case will be reused in the Tiger Upgrade
You will receive a new Tiger Gage with the Tiger or Super Tiger software package OR Tiger Upgrade for 300 Series equipped with the Tiger Cub software package or add on the Tiger software package at any time for an additional cost.
For more information on Tiger Software Packages, click here. For more information on how you can harness the power of a Tiger, call us at: 763-780-2131 or email us.
Send your old spring gage (freight prepaid) to:
Tiger Trade-Up Program
Larson Systems Inc.
13847 Aberdeen Street NE
Ham Lake, MN 55304