Interface for Motorized Force / Length Testers
FLASH technology was redesigned from the ground up with full color interactive graphics using a 10.4″ LCD touch screen interface and allows for on-demand statistical and graphical analysis. Test a part instantly with Quick Test. Manipulate the platform to any force or length with Manual Mode. Set up your standard testing procedures with Program Mode, then run them with Automatic Mode. Save up to 99 different tests in memory and use Quick Launch to run them with a touch of the screen.
Features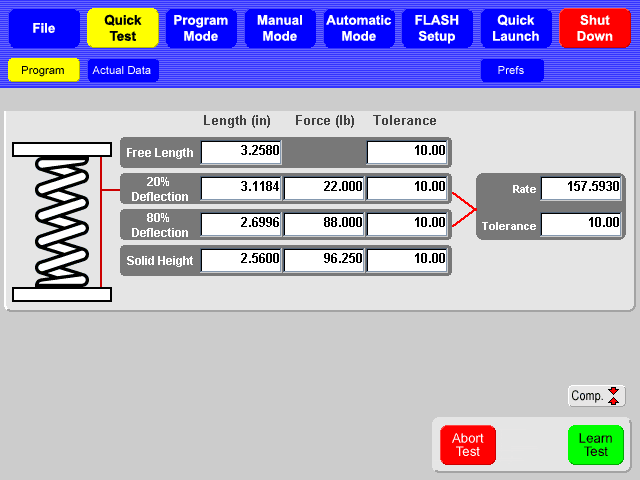 Quick Test
This is spring testing at its easiest — no programming required! Simply place your part, push the Learn button, and the FLASH automatically calculates free length, solid height, rate and 20% and 80% deflection. Descriptive graphics and graphs enhance the Quick Test experience.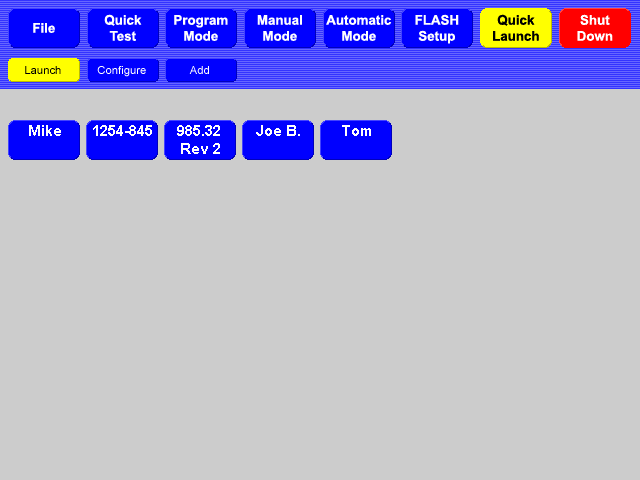 Quick Launch
Imagine a tester capable of quickly handling two or more unique tests at the same time. Now switch to Quick Launch and you're there! Easily switch between different users' tests or revision levels with a few quick touches and back again. Now, interrupting "this will be just a minute" tests really are "just a minute".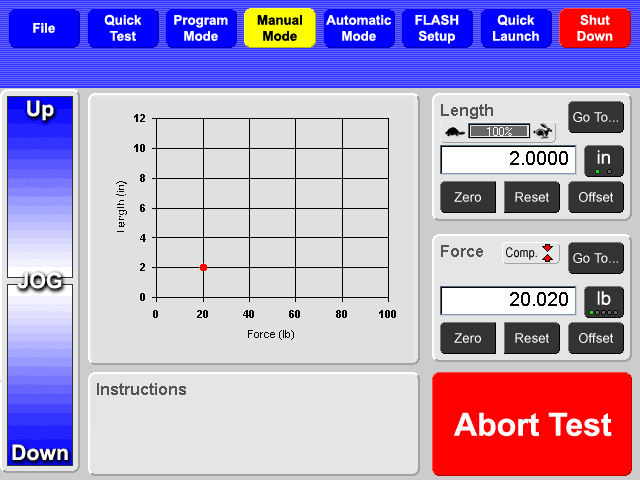 Manual Mode
With a new intuitive jog switch and "Go To" button, Manual Mode allows you to manipulate the platform to any length or force you specify within seconds.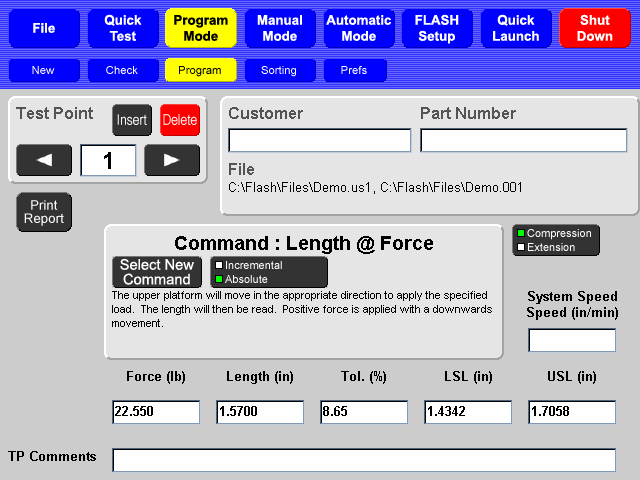 Program Mode
Complete testing sequences for Automatic Mode are programmed here, and include the test commands, sortingoptions and other preferences.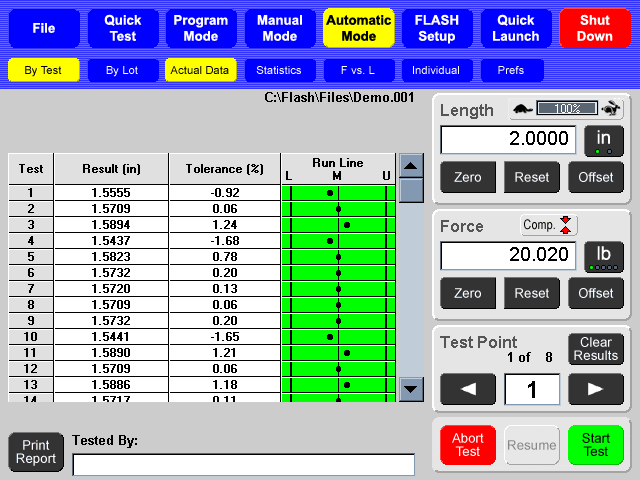 Automatic Mode
The FLASH Automatic Mode offers completely flexible testing options. View information by test or by lot. Statistical graphs, X-bar, range graphs and more!
FLASH Software Packages
Feature Description
Basic
Extra
Pro
Spring
Fatigue
Testing
Pro
Material
Pro
Ultimate
Quick Test
•
•
•
•
Quick Launch
•
•
•
•
•
Manual Mode
•
•
•
•
•
Program Mode
•
•
•
•
•
Automatic Mode
•
•
•
•
•
Single Load Cell Capability
•
•
•
•
•
Dual Interchangeable Load Cell Capability
•
•
•
•
Full Range Interchangeable Load Cell Capability
•
•
•
Absolute Programming
•
•
•
•
•
Incremental Programming
•
•
•
•
Graphic Displays: F vs. L Chart, Individuals
Chart, X-Bar/R Chart and Histogram Chart
•
•
•
Statistics Reporting
•
•
•
Report Printouts
•
•
•
•
Up to 2 Point Testing
•
•
•
•
•
Up to 10 Point Testing
•
•
•
•
Up to 99 Point Testing
•
•
•
Compression / Extension Testing
•
•
•
•
•
Program Saving / Retrieving
•
•
•
•
Conditional Testing & Sorting (Set and test to tolerance)
•
•
•
Length / Force Offsets
•
•
Fatigue Testing: Preset type move up to 9,999,999 cycles
•
•
Fatigue Testing: Archiving data during cycling to file on hard drive
•
•
Fatigue Testing: Nominal and tolerance specifications to allow cycling to stop early
•
•
Dynamic Testing – Force, Length & Time
•
•
Dynamic Testing – Force vs. Deflection
•
•
Dynamic Testing – Rate vs. Deflection
•
•
User Selected Rate Averaging / Smoothing
•
•
Test Commands
Test Command: Length @ Force
•
•
•
•
Test Command: Force @ Length
•
•
•
•
Test Command: Preset
•
•
•
Test Command: Free Length
•
•
•
Test Command: Initial Tension
•
•
•
Test Command: Rate
•
•
•
Test Command: Peak
•
•
Test Command: Pause
•
•
Test Command: Delay
•
•